Elevate Your Holiday Menu with Tasty Side Dishes
Oct 24, 2023, 19:45 PM
The holiday season is rolling around and it is time to start planning an amazing holiday menu for this upcoming party season. If there is one thing people love more than meeting up with their loved ones, it is eating all the delicious food! When thinking about your next Christmas Dinner or Family Meal, you must keep in mind that not only is the main dish important, but also all the side dishes that will vary and should pair well with the standard turkey being served. When it comes to holidays like Thanksgiving and Christmas, the star of the show is undoubtedly the main course, but what truly completes the festive experience are the side dishes on your holiday menu.

To amplify your holiday menu, there are many side dishes you can serve that will leave your guests asking for more. To start planning the sides, you must keep in mind the main dish and how everything will pair around it. If you are planning to serve roast beef or pork, consider having flavorful sides that are less dense that will pair perfectly with heavier meats. Whereas, if you are serving turkey or chicken, having hearty sides may help to balance out the meal and satisfy all your holiday dinner guests.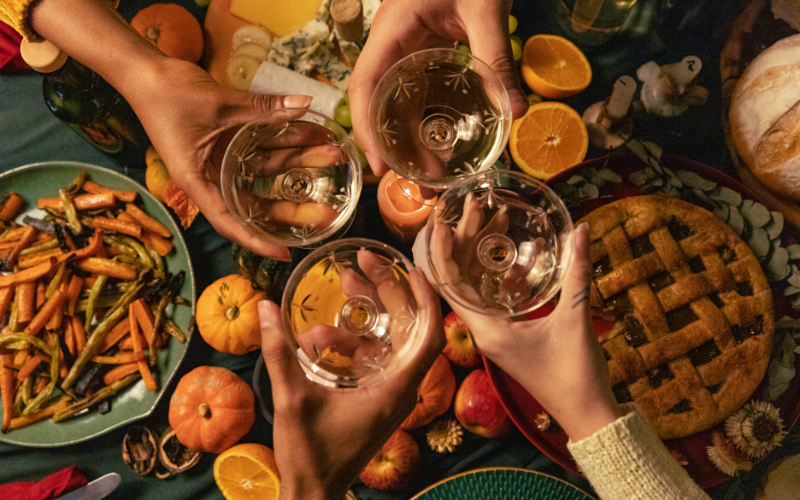 These flavorful accompaniments not only add variety to the holiday dinner spread, but also enhance the overall festive dining experience. From classic favorites to modern twists, these side dishes will be the talk of the table. Let's dive in!

1. Classic Roasted Vegetables
A holiday classic composed of a medley of roasted vegetables, such as carrots, potatoes, and broccoli. This is a classic side that pairs perfectly with any main dish you are thinking of serving. The caramelization that occurs during roasting brings out the vegetables' natural sweetness, making them a perfect complement to the rich flavors of holiday meats.
Additionally, this is a fairly simple and easy dish to prepare so you can focus on all the other side dishes you are making.
Check out this easy one pan recipe for classic roast vegetables:
https://www.ambitiouskitchen.com/balsamic-herb-sheet-pan-roasted-vegetables/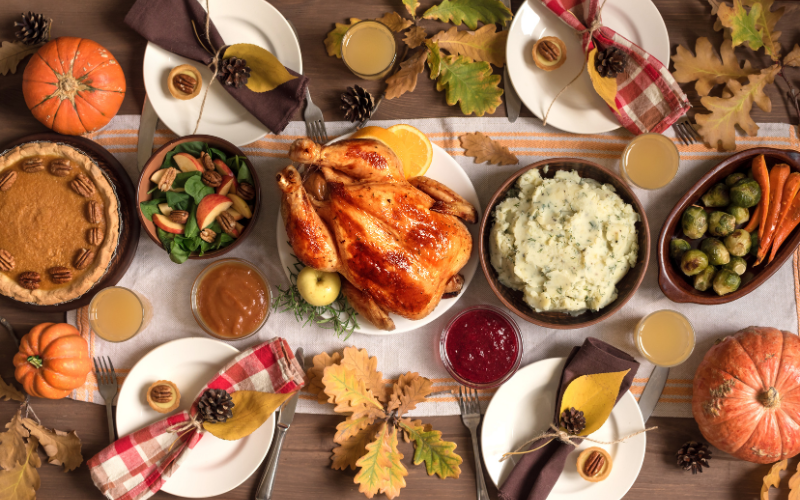 2. Creamy Mashed Potatoes
Another traditional Christmas dinner side dish is creamy mashed potatoes. It is a must-have on any holiday dinner table. The velvety texture and buttery goodness make them an instant crowd-pleaser. And they are vegetarian friendly.
ps, just be mindful of your holiday dinner guests and any dietary restrictions
Check out this recipe for a garlicky mash that stands out:
https://www.lecremedelacrumb.com/garlic-mashed-potatoes/


3. Home Made Savory Stuffing
Set aside the box stuffing this holiday season and make a homemade stuffing that will be a delightful pairing for your main course. The classic stuffing recipe is a great option, however, with all the new, creative recipes, it's a great time to try a unique twist to an old classic. Remember, you've got some time to practice all the recipes you're planning to break out for Christmas Dinner (or any family meal), and ensure your holiday menu is up to your desired standards.
Whether you prefer it inside the bird or baked separately, the combination of bread, herbs, and savory ingredients like onions and celery will leave you going back for seconds. The best part about stuffing is that if you find a good gluten free "white" loaf, it'll be a simple swap out to accommodate any family meal guests in attendance.
Check out this unique apple and herb stuffing that your guests will love:
https://www.foodnetwork.ca/recipe/herb-and-apple-stuffing/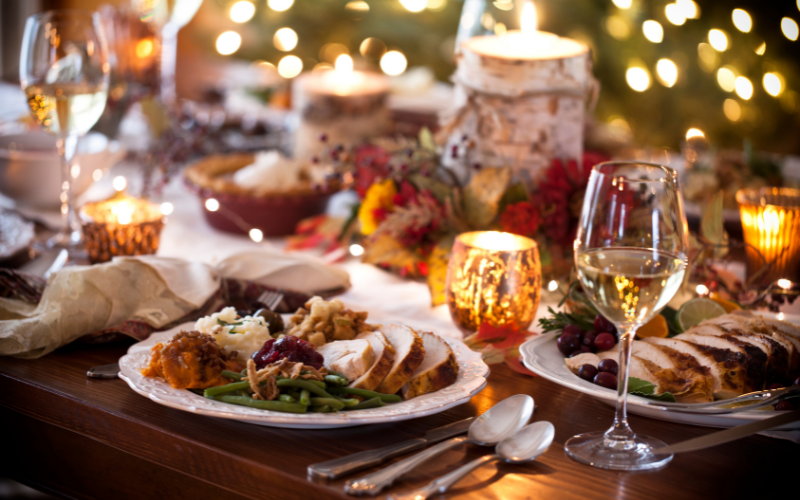 4. Green Bean Almondine

Serving this dish automatically elevates any holiday menu you have in mind. Green bean almondine is an elegant and delicious side dish. It breaks up the carbohydrate-heavy side dishes by adding fresh and more nutritious balance.
Sautéed green beans with slivered almonds create a delightful crunch and nutty flavor that complements the holiday meal beautifully.
Check out this easy, yet stunning side dish recipe:
https://www.loveandlemons.com/green-beans-almondine/


5. Cranberry Orange Sauce/Relish

Adding a cranberry orange sauce/relish to your holiday menu will add a burst of sweet and tangy flavors to your menu. Its vibrant color and refreshing taste will perfectly balance out the decadence of the main dishes and some of the heavier side dishes as well.
It is important to think of your menu as a complete meal as opposed to random side dishes that are tasty. This way you and your guests can enjoy a well-balanced meal that has everything from sweet, salty, tangy, and savory. Cranberry and orange typically go better with white meats, like turkey, and chicken, but your only limits are your culinary imagination.
Check out this beautiful holiday sauce recipe that's made using no artificial sugars!
https://amindfullmom.com/homemade-citrus-spiked-cranberry-sauce-naturally-sweetened/


6. Garlic Parmesan Brussels Sprouts

While brussels sprouts may not be everyone's favorite vegetable, this side dish baked with garlic and cheese is a must-try. It might even transform brussels sprouts skeptics into fans. To be truthful, any vegetable tastes amazing when topped with garlic and parmesan cheese! The crispy texture and bold flavors are sure to impress your holiday dinner party guests.
Check out this crispy cheesy brussels sprout recipe that will add the perfect crunch to your meal:
https://tasty.co/recipe/roasted-garlic-parmesan-brussels-sprouts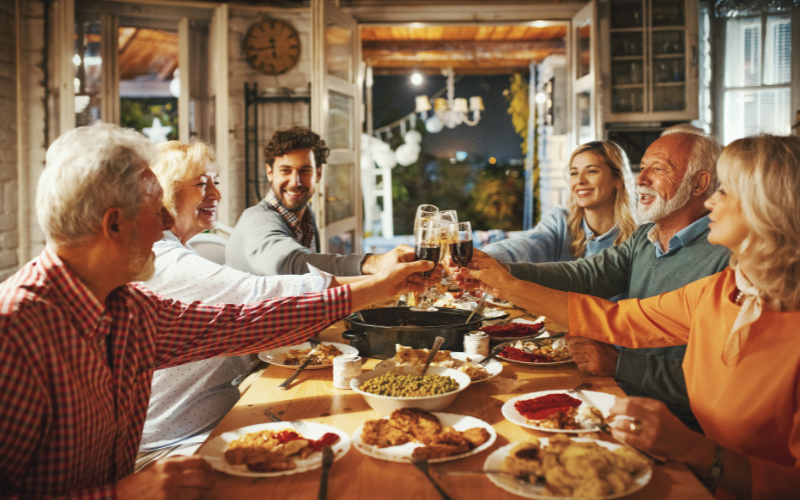 Whether you choose to stick with the classics or explore new flavors, these side dishes will make your holiday menu unforgettable. This holiday season, try and switch it up with one of these amazing recipes. It might be your new signature dish! So, gather your ingredients, get cooking, and let the festivities begin. Come to one of our amazing holiday shows to try amazing foods, purchase gifts, or get more inspiration for your next holiday event!