Exhibitor Spotlight: Cookies by Sugar Momma
Oct 18, 2019, 17:37 PM
There will be lots of great exhibitors at the 2019 Des Moines Holiday Boutique and we want to give you a closer look at one of them! Check out our brief interview with Cookies by Sugar Momma owner Amy Presley to get the scoop on this unique business.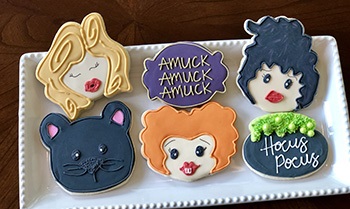 Tell us a little bit about Cookies by Sugar Momma.
"Cookies by Sugar Momma is a custom sugar cookie business that I own and operate. I also sell other cookies such as chocolate chip, snickerdoodle, etc. My mom was a home economics teacher and I use her recipe. Growing up, I loved baking with her at Christmas and being able to be creative with decorating cookies."
"I have been doing this part time for friends and family for a few years. This past December, my father passed away. He had always told me that I should open my own business, so I took the leap and started doing cookies full time in April."
What are some of the most creative requests you've had?
"When someone asks me to create cookies for something I know nothing about, I usually spend some time doing research. My research helps me to get to know the subject so I can come up with something creative and original. The hardest subject I've had so far was BTS, which is a Korean Pop boy band."
What are some examples of occasions you've had requests for?
"I get a lot of holiday, graduation, shower and birthday requests. There are also unique requests which can be fun. Our daughter is a Sheriff's deputy and I made them coffee and donut shaped cookies once, which they found funny. You know cops love their donuts!"
Why should attendees be encouraged to stop at your booth?
"They should stop to see my cookies as a work of art. People always tell me they are surprised that not only are they beautiful, but they taste amazing. People come back more and more, which tells me I have the secret recipe down to a science."
What is your best holiday shopping advice?
"Start early and really put some thought into your gifts to make them special. Custom gifts are always meaningful."
What do you look forward to most during the holidays?
"Christmas music! I drive my family crazy with my love of holiday music. There is something so magical about the season and the music that can warm your heart."
Be sure to check out Amy and Cookies by Sugar Momma at the Des Moines Holiday Boutique! Follow her on Instagram and Facebook for lots of social fun.